Bullet Journals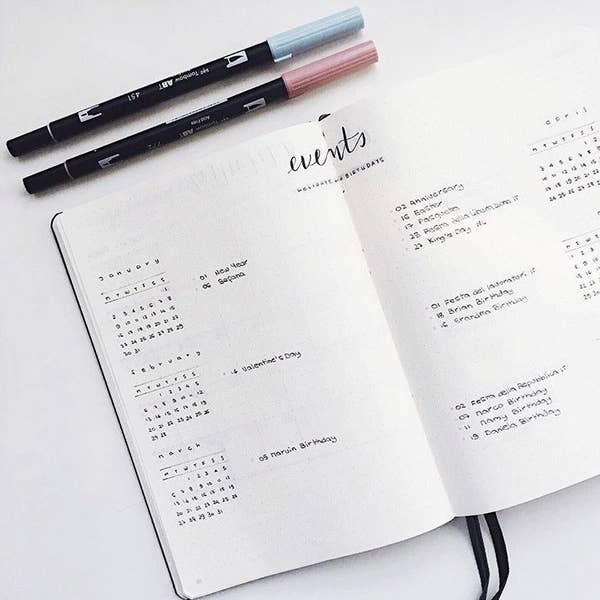 What is a Bullet Journal?
---
Equal parts day planner, diary, and written meditation, bullet journaling turns the chaos of coordinating your life into a streamlined system that helps you be more productive and reach your personal and professional goals.

With sections to log your daily to-do's, monthly calendar, notes, long-term wants and more, your BuJo is customized to your life. (Entries are tagged with bullet points, dashes, and other graphics so you can see their categories at a glance.) Whatever you call it — a planner, journal, or otherwise — creator Ryder Carroll says this method will help you live a more productive and meaningful life. You can find Ryder Carroll's book here.

By updating it daily, "you learn how to get rid of things that are distracting you and add things you care about," Carroll says. But it's really built with you in mind: "The only thing that the bullet journal needs to be is effective, and how it can best serve its author is entirely up to them."

Customize your BuJo by selecting symbols that are easy for you to understand and creating sections (called "collections") that align with your long and short-term goals such as a fertility tracker, fitness log, diary, and more.
And for everyone who's panicking about their sub-par art skills, take a tip from Carroll: "Bullet journaling is always about function over form, right? And to be very clear about that, form can mean sloppy or beautiful. It doesn't matter what your bullet journal looks like. It's about how it makes you feel, and how effective it is in moving you towards the things that matter to you."